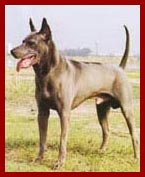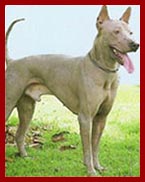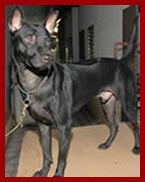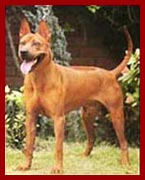 Welcome to the...
American Thai Ridgeback Association
In March of 1994, Jack Sterling of San Francisco, CA chanced upon four silver blue Mah Thai Lung Ahn in small hotel in Bangkok. The thought of those 4 dogs stuck with him during his entire stay in Thailand. 

While exploring Bangkok on his own, he was lucky to had found vet who lead him to thee top show winning breeders of that day. He was able to pick from over 100 different dogs the 3 dogs he would begin his TRD breeding program that has now last almost 20 years. 

Jack bought a five month old male puppy he called SAKORN and two blue females called BENT and NAVINEE. These were the first three Thai Ridgeback Dogs that started off this ATRA group. 

While in Bangkok in mid March 1994, Jack met with the late Mr.Somsit Leelhausuwan at his Thai Silk Kennel. It was then when Jack chose those now famous initials of the English version of this breeds name. 

The Mah Thai Lung Arn or Thai Ridgeback Dog became simply the ....TRD... thanks to Jack's quick thinking. 

Here are some of the names that people around the world are using to refer to this very rare, ancient Thai breed of dog and #1 on the list was Jack's idea in 1994: 

TRD, Thai Dog, Siamese Dog, Mah Lung Arn, Mah Thai Lung Arn, Thai Ridgeback Dog. 

ATRA was one of the many ideas Jack had for this breed back in 1995 when it was first conceived as to keep a record on all of his dogs he would buy and later breed. ATRA is America's first official registry of the Thai Ridgeback Dog. 

ATRA's goals are to serve, educate, protect, and preserve the Thai Ridgeback Dog worldwide, and to assist its members in registering all their TRD in America and also with any TRD direct from Thailand. 

ATRA will continue to keep all records on TRD bred in America as well as in Thailand. Soon, we will have a new database on all the TRD registered with ATRA since its beginning in 1995. If you have a 3 generation pedigree from any other registry and want your ATRA pedigree certificate then send it directly to ATRA and we will create it for you. You can see a sample by clicking ATRA Pedigrees in the red bar field to the left of this text. 

Please take the time to join the ATRA forum and read about TRD from the owners who have bought them.