back to previous page
Library
The Thai Ridgeback Dog
By Jack Sterling
I have been a dog fancier for 30 years, working chiefly with little-known breeds of dogs. In particular, I helped to popularize the Pharaoh Hound, and did my share of work in showing and breeding to bring back the Chinese Shar-Pei from the brink of extinction to become one of the most popular breeds in the United States. With these successes behind me, I had begun to feel bored and was contemplating a change in career. Little did I know what lay in store for me when I visited Honolulu this spring to congratulate my friend Danny Foxman on his marriage. His new wife is from Thailand, and I was so charmed by both of their stories about Thailand that she encouraged me to visit her family at their home in Thailand. In no time, it seems, I found myself on an airplane flying to Bangkok.
After a 16-hour flight, I arrived in Bangkok, and like so many others before me, shared a taxi to Rose Hotel with a Canadian fellow traveler. The next morning, I awakened to the sound of dogs barking. Far from annoying me, the sound made me feel at home and I went downstairs immediately to investigate. I had never been to Asia before, and I wondered what kind of dogs lived in this new part of the world. In a compound behind the hotel I was astonished to find four beautiful silver blue dogs of a breed I'd never seen. They approached me, their foreheads wrinkling with nearly as much interest as I felt in them. I petted their short, velvety coats, noticing a distinctive ridge up their backs, such as I'd seen on the Rhodesian Ridgeback. They had black noses, a long whip-like tail, and moved with intensity, lightness and speed. They were like no other dogs I'd seen before.
They were "Mah Thai" (Thai Dogs or later that month I decided to call them simply a TRD), the hotel owner explained, but because we could not speak each other's languages, our communication ended there. On my first day's expeditions around Bangkok, I saw many stray dogs who were obviously cousins of the highly bred silver dogs I had seen behind the hotel, less elegant perhaps, but equally agile and intelligent.
That night I boarded the plane for Ubon Ratchathani, Northeast Thailand. On arrival, I was immediately adopted by Somsak, Navinee and their relatives, who have become my second family in Thailand. They showed me a hospitality and courtesy beyond anything I had experienced before, and then I fell in love with Thailand. Although they are not dog fanciers, when I mentioned the dogs I'd seen, they searched with me as far away as Chiangmai. We did find some dogs, but of inferior quality, and so when I returned to Bangkok my quest was still alive. As I searched for a language school, I happened across a veterinarian's office whose sign was written in English and Thai. The vet spoke excellent English, and was a great admirer of the dogs. He confirmed my suspicions that the dogs had been carefully bred and were expensive. They had a name - Thai Ridgeback Dogs.. I decided to call them simply a TRD...The vet asked me if I would like to meet one of Thailand's foremost breeders.
What a question! The vet accompanied me to meet the #1 breeder in Thailand. When we met we became instant friends; I called him "Bill" because he was the man in charge like our President! Bill is an industrialist who had made his fortune in international trade. His house, one of many, was immaculate, with polished teak floors and walls. It contained, not only more dog trophies than I had ever seen collected in one place, but also a bank of computers that looked as if it could influence the fate of Wall Street. Bill took me outside for a tour of his kennels. Bill's partner led out dog after dog for my inspection. As an experienced breeder and fancier, I recognized quality. Their short coats hid nothing: these dogs were flawless. A thrill went through me, and I felt that old excitement. I wanted to buy two, four, ten, twenty dogs! Of course this was impractical; I could never afford so many of these top quality animals. But I could, realistically, begin a breeding program. If I was fascinated by these dogs, wouldn't other fanciers in my country be interested too? Making rapid calculations in my head, I selected three of Bill's best dogs, a pair of puppies and a pregnant bitch. Then I went home and sold my most treasured possession, a 1931 Model A Ford.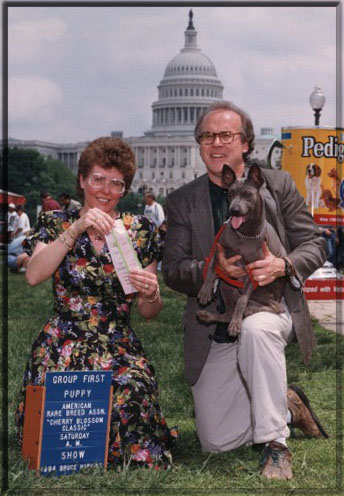 Above: Jack Sterling with the judge who awarded his first win with his first Thai Ridgeback Dog.
The dogs were friendly, but on the other hand, they were terrifically ferocious guard dogs, males and females alike. Anyone would be nervous about entering a house where a pair of Thai Ridgebacks were loose. Like Thai people, they are respectful and calm until circumstances require otherwise. These dogs have lived closely with Thai people for centuries, yet they retain their distinctive indigenous traits. I felt very peaceful in Thailand. even the utter chaos of Bangkok is somehow permeated by good manners, a profound calm that is based on the Buddhist attitude of giving rather than taking, and of maintaining respect for all that lives. We in the West have much to learn from Thailand.
I now have three Thai Ridgeback Dogs in my San Francisco kennel: a dog, Sakorn, and bitches Navinee and Bentley. Sakorn and four month old Navinee became the toast of the American Rare Breed Association when I took them to the Cherry Blossom Classic Dog Show this May in Washington, D.C.. I do not exaggerate when I say that I answered at least five thousand questions about my dogs over the show's two days, even the most experienced rare breed fanciers and judges were thrilled to see these new, exotic dogs. The pair collected more than a dozen ribbons, Sakorn placing fourth in all four of group shows. Even without prior training, the dogs knew how to behave. "They know they're good looking dogs," said the handler. "And these were kennel dogs???. There's no limit to what they could do if they'd been hand-raised." The most entertaining moment came after the show, when I took my two Thai Ridgebacks to look at the White House. As we stood by the gate, President Bill Clinton and Hillary Rodham Clinton happened to ride out on bicycles. "Very nice dogs!" President Clinton shouted admiringly as he rolled past, surrounded by Secret Service agents. It was a brief, but auspicious encounter.
My female, Bentley gave birth to the first litter of four males and five females of Thai Ridgeback Dogs born on United States soil. Let's work together to give these pups good homes, and to spread the word about these fantastic dogs. Having seen the care and attention that Thai fanciers have invested in this breed, I offer only limited quantities of top quality animals. Thai Ridgebacks are unspoiled, indigenous dogs, one of the few left on the planet. With your help, we can keep them that way! The breed is recognized by the FCI; the breed standard is included in this web site, along with a detailed descriptive history.
Kórp KOOn Krúp (Thank you),
Jack Sterling



© Copyright American Thai Ridgeback Association 1995 - 2014
Notice: Copyright to all photographs displayed on this site is owned by the photographer.
You may not sell, publish, license or otherwise distribute any of these photographs without the written permission of the photographer.